Latest topics
»
Goetia where are you
by
Pumpkinhead
Tue Apr 09, 2019 4:08 pm
»
The perfect spot
by
Pumpkinhead
Tue Apr 09, 2019 4:07 pm
»
Pumpkinhead's Flames; Flames Of Eternity
by
Pumpkinhead
Fri Mar 22, 2019 3:49 pm
»
Insangel Weapons
by
Triere
Fri Mar 22, 2019 2:26 pm
»
Insangel Manna
by
Triere
Fri Mar 22, 2019 2:14 pm
»
The Insangel
by
Triere
Fri Mar 22, 2019 2:04 pm
»
End Game
by
Pumpkinhead
Fri Mar 22, 2019 1:39 pm
»
Home sweet home
by
Gravemind
Sun Mar 17, 2019 3:21 pm
»
Next; The City
by
Pumpkinhead
Fri Mar 15, 2019 5:43 pm
»
A flower within a city
by
Memento Mori
Thu Mar 14, 2019 6:53 pm
»
The Ghost
by
Gravemind
Mon Mar 11, 2019 3:13 pm
»
Networking minds
by
Gravemind
Mon Mar 11, 2019 3:03 pm
»
C.C.C The Gravemind
by
Gravemind
Mon Mar 11, 2019 2:51 pm
»
Death follows the flower
by
Memento Mori
Mon Mar 11, 2019 1:59 am
»
Remember Death
by
Memento Mori
Mon Mar 11, 2019 1:44 am
It was quite the lovely place for bad things to happen and that's what brought Chusin to Onder City, she needed a place to start the  ███ which wouldn't be ready for quite some time since she needed to get everything in place first before that could happen and this was the best place to start since no one would ever expect anything. Once she made her way into the City she immediately went and looked around for a home or any old place that she could use as her base for the time being while she got to work on the   ███ that she was going to start. Once she found a place that she could use she would get to work, but the place she was in was old and run down since the place was nothing more than an old warehouse with no power.
"Guess it needs power."
She said and with just that, the place lit up like fireworks and lights were on in every spot that had a lightbulb and with the power on she could start her work and the first thing she'd do is create someone to help her out and what better thing to create than an AI super android.
"Now this should help speed things up a little bit faster."
The making of her AI wasn't hard in any way since she was using the powers of something that wasn't her own and this AI was beyond anything that man or god could create since it was perfect and was geared with the tech so advanced that trying to even comprehend or explain it would cause someone to literally go insane and mad with obsession. The AI itself would only do what it was told and would n only listen to Chusin and no one else; once brought into existence for the sole reason of doing its intended deed Chusin had also gone on and transformed the whole warehouse into a super highly advanced technological facility. The AI, now fully brought into existence hook itself up to everything within the warehouse and then went on force itself into the worldwide grid/web/etc, connecting itself to every piece of tech there was regardless of typing.
Spoiler:
"Well, that's done. Time to move on to phase 2."
Now with a connection to all the tech on the planet Chusin could easily start a nuclear war if she so chose to, however, that wasn't what this was for by any means, this was for other reasons that would unfold later on when the time was needed.
"Access to all the planets technological equipment and components and databases along with everything else. Is there anything else needed master?"
"No. That's all for now. However, I do want a certain android to be tagged and watched since I can see that it'll be of use later on."
"Understood. Tagging complete."

Chusin




Area Location

: Chusin's Hole


Posts

: 101


Join date

: 2016-07-19



"Master I have a question."

"What is it"

"What am to do while I await your instructions?"

"Surf the web and learn all you can, simple if you ask me."

Chusin said as she sat in a chair rocking back and forth while she spoke to her AI since there wasn't much else to do currently till the first piece moved on the chess board and once that was done things would finally kick off and the gears would turn and the chaos would sweep the land like a wildfire. This was what she was waiting for and why she didn't act any more than she did already; this had to work or things wouldn't be a fun in a sense and she'd more than likely die again in the process for breaking her end of the deal.

"Come on you metal junk, do it, do what I need you to do so things can kick off!"

Chusin




Area Location

: Chusin's Hole


Posts

: 101


Join date

: 2016-07-19



"There we go! It's about time things started to pop off!"

Chusin had finally seen what she needed to see and that's when the time had come to kick the gears into motion. She felt the wave of power that was released and that's when she knew that he was trying something and wasn't doing too well judging by the power output. This was just the sign she needed and with that sign, she started to clap her hands in joy as she gave the word to her AI to begin and bring the chaos out into the open.

"AI, give me control over the government's combat androids as well as their war droids, it's about time the chaos came full force."

"Done."

Once the control over all the government's war droids and combat androids were given to Chusin, she would immediately turn them on and place them into kill mode and everyone was on the hit list no matter who they were. This was the start of The Crawling Chaos and everything would become lost in madness.

"Kill everyone, leave no one alive...wait! Keep, some alive for torture."



Chusin




Area Location

: Chusin's Hole


Posts

: 101


Join date

: 2016-07-19



Suddenly, out of the blue, someone was transported into a safe-zone that was no longer in a nullified area where people of power had none. This was Khrona (Tymon), whom Chusin should have known about, probably, even in this dimension. Khrona was already aware of Chusin and the multi-dimensional Chusins that existed, similarly to how the Chusins were aware of each other. Appearing before her, the only thing Khrona could ask was "Are you the Chusin that is above all of the others, or are you the original...? Or... Is there no difference?"

Khrona got lost in his own thoughts for a bit, but then realized that he already had the answer and then kinda made a stale face at Chusin just because of what happened.

"Are you trying to kill me or get me to leave...?" Khrona asked, "Because clearly, if you're behind all of this, then that means all of what happened was definitely under your control." Khrona sighed and lowered his head. "If my powers are shut off, I cannot stay here. The only way I'm here is through that 5th Dimension conduit, and I exceed the 5th Dimension because I exist in other dimensions, as well. But I also must adhere to the laws of this dimension, which is completely ruled by the 5th. That means that the piece of me that is here will disappear, and even if I die, it is still only a shard of my full self -- much like you do with your own fragments." He kind of rubbed the back of his head, wondering what he was going to do with Chusin now. Or, what Chusin was going to do with him.

"... Soooooo. Have I become a hero?" he said with a dry chuckle, knowing that his comedy was probably unwelcomed in this situation.

Tymon (Khrona)




Age

: 25


Area Location

: Banned


Posts

: 40


Join date

: 2017-11-24



"Good question but wrong answer. I am the original and yet I am not at the same time since all the versions of me think they're the original and or the first one, it's really all just one big joke if you ask me."
Chusin said as she spun around in her chair a few times, she'd been asked that question a lot and the answer was always the same in every situation since she didn't even know if she was the original version of herself since there were so many of herself that it made it hard to even keep track at some point in time. She spun around and came to a stop and looked at Khrona for a moment and sighed while rubbing her head a bit before placing her hand on the desk and sighing again.
"If I wanted you dead you'd be dead, trust me on that one and if I wanted you gone you'd be gone just like that. However, I had nothing to do with what happened, I did nothing wrong as far as I know and what's more is the people that did cause the mess are still living while the people that had nothing to do with it are dying.
Also, I know what keeps you here so you didn't need to tell me about the power that keeps you here and what's more you don't exceed The 5th Dimension by any means, its the other way around you see and you being in other places means nothing since it all comes back to one point.
What's more, you only follow the laws of this place because you have no power to say otherwise."
Chusin said while looking around a bit since this whole thing was set up to turn out this way and all she was doing was following the script like everyone else was, it wasn't the most ideal thing but what choice did she really have in the matter since she had to play her part and so far she was doing quite well.
"Your piece or fragments are connected to you like a sting to a Yo-Yo and if cut you'll vanish and be gone, but if I so chose to I could reach out to you and slap you, the you that's in control of you now and you'd be powerless to stop me since you'd act in a way that only you can which is all in itself predictable much like your response to what I'm saying."
She spoke a truth that only people who've been through the events that she has would understand and she knew that Khrona hadn't been through that and that's what made her sigh again.
"Until a person is faced with death, it's impossible to tell whether they have what it takes to survive. I've seen the ugly truth that is beyond the understanding of what's normal and let me tell you it's quite ugly."
It was quite the long-winded saying but she had to say what she had to say since drilling things into the skull of people who were more or less unaware of their stings was hard and boy did she try for years on end.
"Now with that being said, I will answer your question of being a Hero. You are a Hero but you lack the one key element that all Heros have and that's knowing when to accept what's what."
With that being said she spun around again and came to another stop and looked at the window and saw the flames of the chaos that was caused spread like wildfire. She looked back at Khrona and walked alongside him while still sitting in the chair "Let me show you something Hero." and at that moment she teleported the both of them into The Bleed, a place that was simply nothing.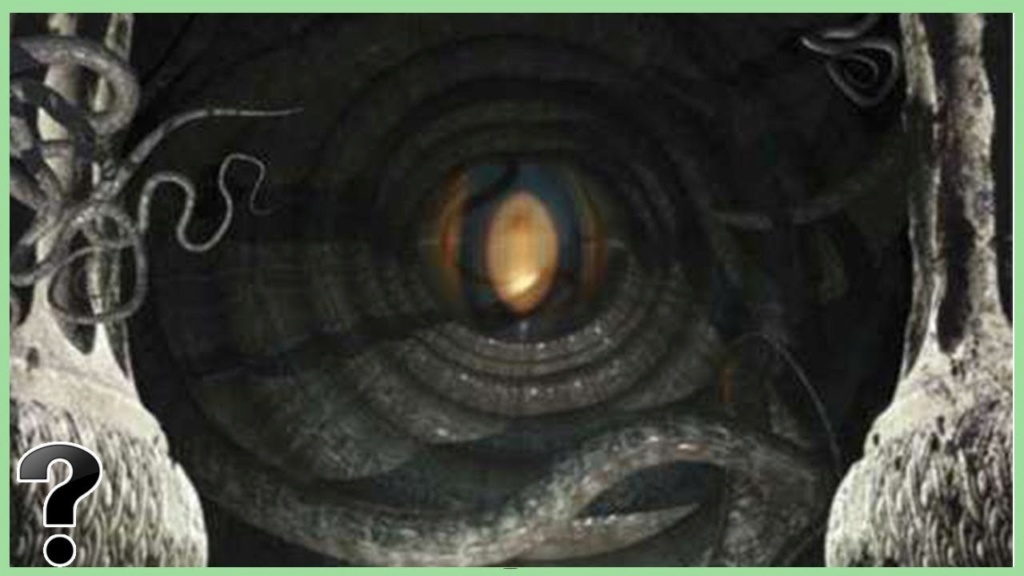 'Welcome to The Bleed, my friend. This is where it all stops. This is where you can see everything, even your realm if you look hard enough to find it and where it stops, much like the realm that I'm currently in. Do tell me what you think of such a place or will you speak what we wait to hear?"
This was the real question and depending on the response things would take the turn needed to give our Hero a mission to complete.

Chusin




Area Location

: Chusin's Hole


Posts

: 101


Join date

: 2016-07-19



Khrona looked at the 5th Dimensional Script via Epic Art, nodding his head and adjusting his rather suave reading glasses. "Yep, sounds like Chusinworld," he would say. "Yeah, I may not exceed the 5th dimension HERE, but there are just other dimensions that exist which--" there was no point in trying to argue a fact when the limitations were made by something that was the limitation. There was no greater or lesser than it, and that was fine. Khrona only cared about really finding out why Chusin wanted to have a lesser dimension as the only one, but the 5th dimension was so vast that it gave way for all such of fun. Tymon was aware of this.

"Okay, so, for now, nothing exceeds this 5th dimension, because that is what this dimension's limitations are. All dimensions are within or lead back to it, I see, and you have control over it all. When I'm done in this dimension, I can leave and go to a parallel 5th dimension or even the 6th, since I know what it is -- Emotions. And please... Let's not get into why emotions have their own dimension that exceeds the 5th, which is Reality. It just is because so many people had issues with there being a one dimension above all that they all kind of just made up something that was literally the exact same thing but based off of their own emotions creating and sustaining the reality... Something like what you have done here."

Trying to talk to Chusin about anything outside of her 5th Dimensional bubble was probably not best, and at the end Khrona would just end up saying 'Okay, whatever' and just simply not believe it due to having countless adventures in greater, lesser and parallel dimensions before coming to this centralized one. "VESCRUTIA was the EXACT same thing, remember? The 'Center Of All'? The 'One Dimension?' Yeah, dimensions sound kinda dumb when they only think they are the only one, or the center of them all, or whatever and whatever. Simply because--"

Khrona almost did it again. He would keep that one secret.

"Ahem, back to this dimension's Script... YOU WANNA DO -WHAT?!-"

Khrona threw the script away and it exploded in an Aqua Teen Hunger Force type fashion.

"I DON'T BELIEVE THAT YOU WENT AND MADE YOUR OWN DIMENSION JUST TO DO THA-- You know what? Yes I do, cuz here I am... Standing in it... Watching you... Do that until you get ready to kill this version of me I sent to this dimension from a different one." Khrona coughed "whichisgreaterthanthisone*cough*" just to piss Chusin off, like Chusin once again tried to piss Khrona off.

"So. Why not come to MY dimension(s) then? Why do I have to be... powerless in order for you to do all of this?" Khrona barely even wanted to know the answer, in all honesty.

"Sigh. Chusin," Khrona said, furrowing his brow and pinching the bridge of his nose, "... I can SEE my own dimension and other dimensions from a GATEWAY that I SET UP AROUND a 'BLEED' as you call it. Mine doesn't even BLEED it just. Ugh You Can WALK-- You know what? Disgaea. Just. Just... Disgaea." He was surprised that Chusin didn't think.

"Still. Impressive for you, considering where you came from. I'm actually proud of you," Khrona had to admit, since he knew Chusin's back story. "Well. Uh. Have fun in the 5th Dimension. I'm telling you, you will not enjoy the 6th. The 7th, you'll LOVE, but the 6th? You'll want to kill yourself." Khrona shook his head and thought about all of those... Dimensions. And how they were exactly the same... as this one. Including the 'All Is One' and 'One Is All' realities. He shuddered at the thought of walking through any of them again. "Nope, I think I like it back at home. BUT. I still welcome you there, since it seeeeeeems I am not too much welcomed here?" Khrona couldn't exactly tell.

"Oh, and by the way, I severed this fragment of myself long ago. Yep. It's just a shard that I recovered the injury of. Like picking off dead skin that is alive. I'm dead skin."

Khrona was actually still interested in this place even though it seemed like that this place was trying to just say some things were so everywhere when it was just in this place alone. "You really need to get out. Truuuust me. You KNOW I know what I'm talking about."

Even so, Chusin was giving Khrona the 'Chusin Hospitality', which wasn't... Exactly bad, even if it wasn't... exactly good. Something like Chusin was. So. Yeah. Whatevs. It was all fine and dandy.

"Heee~! I'm a hero~!..." Khrona squeed.

"OKAY, WELL. FINE. I will... TRY this... HERO... Thing... In your... *sigh* realm. Could be fun." Khrona shrugged, holding back a giddy smile.

"SO WHAT DO I DO FIRST IN THIS PLACE COACH!?!? HUH HUH HUH HUH!?!?!?" Khrona bounced up and down like a kid on a sugar rush "I CAN DO TONS OF COOL STUFF WITH MY EPIC ART THAT'LL GO BUZZAP AND WHAPAM AND WHOOP-WHOP-DE-BAM!!! Just... SIGN ME UP FOR WHATEVER AND I'LL-- I'll regret saying 'WHATEVER' but -- GET IT DONE, BOSS-LADY SIR. Teehee~*!"

Tymon (Khrona)




Age

: 25


Area Location

: Banned


Posts

: 40


Join date

: 2017-11-24



"You still sound like a lil bitch is all I'm saying kekekee~ However, I hear you Khrona, I hear you loud and clear, so clear that it hurts it hurts sometimes."
Chusin nodded her head and rubbed her chin while listening to Khrona be Khrona, she understood what he was saying but at the same time he wasn't saying anything new or shocking that he hadn't said before which was making him sound like a one trick and by god he shouldn't be sounding like a one trick. She looked out and about where they were and took him back to the warehouse since the point she was trying to get him to see was kinda pointless since he wasn't trying to see the bigger picture since he wasn't the one painting it and stuff.
"So did you enjoy the view? Don't answer that haha. I know you did. I have a list of things for you to do Hero, so here you go."
She ported a list into his hands with enough things on there to keep him busy for a minute or two and the first thing was to go and get a child by the name of Dizzy; she was of grave importance to her and she needed that child for reasons he didn't need to know about.
"You'll find her in the No Mans Land and I should warn you that the people there aren't the most friendly but since you're Khrona and all that you should be able to get there without any challenge whatsoever. I shouldn't have to tell that I need this child unharmed and since you're Khrona you'll get her back here without so much as a hair dropping from her head since you're Khrona and stuff."
She was sure he'd do this task and Hero it up cause he was Khrona after and being Khrona was something she could count on since it was Khrona after all and she trusted him more than he knew since they knew each other so damn well. She opened a portal to the No Mans Land and once he entered he'd be sent to the location that the child was in and from there it was his job to finish the job.
http://dominionofheroes.forumotion.com/t76-what-to-do-now#321

Chusin




Area Location

: Chusin's Hole


Posts

: 101


Join date

: 2016-07-19



Listening to Chusin nowadays made Khrona's heart well up with feelings he hadn't had in a long time for Chusin, and was beyond pleased to see and hear this. Like a little girl, he squealed just a little bit, a single Crystal Tear rolling from his eye.

"Oh, Chusin..." he muttered under his breath, wiping away his tear and flicking it off to the side before it disappeared, since it was all Epic Art and had no significant meaning beyond just being a normal teardrop at this point. "... You Really Make My Heart Have Love For You, You Know...?"

At that moment, Khrona's power overwhelmed him, and the Epic Art started to flow out from around him like a leaky faucet. It spread only a small vicinity, but all of it was beautiful -- rainbows full of majestic colors, twinkling stars, glitter and even a cosmic flower or two. He looked just like his old self for a moment, and it was all thanks to Chusin.

Stunned with happiness, the love of Khrona's own Crystal Heart was clear (literally and figuratively) at Chusin's nobility, even in its uniqueness. It was like watching his very own child grow up to be something beautiful, and he meant that.

"Well now," Khrona said abruptly, clearing his throat and sucking up the Epic Art back inside of himself, "No need to get too mushy around here," he'd say with a smile. "I have a job to do!!" Chusin made Khrona's heart grow three times its size that day, and because of what he felt, Khrona knew that he was going to have to do his very damnedest and taking care of someone that Chusin might feel similarly about like he did about her.

Khrona saluted and said, "AYE-AYE, MON CAPITAN!!!" Before hurling himself into the portal like Crash Bandicoot after doing a silly little dance to make Chusin laugh or whatever.

Tymon (Khrona)




Age

: 25


Area Location

: Banned


Posts

: 40


Join date

: 2017-11-24



"Sometimes I hate myself for the mess I do and yet I find it really funny at the same time. I hope he doesn't die but then again he's Khrona so he'll be fine and will get the job done quickly."

She turned around and looked at her AI and shrugged and leaned back in her seat and just waited for Khrona to come back with the little girl she sent him to get which should be soon since it was Khrona after all and nothing was a challenge for Khrona since it was Khrona after all.

"Well, at least I know the girl will be of use to me since she's special in many ways and I need that specialness she has before they get to her."

Chusin




Area Location

: Chusin's Hole


Posts

: 101


Join date

: 2016-07-19



---
Permissions in this forum:
You
cannot
reply to topics in this forum